Everything You Need to Know About Snezana Markoski's Logies Gown
2016.05.09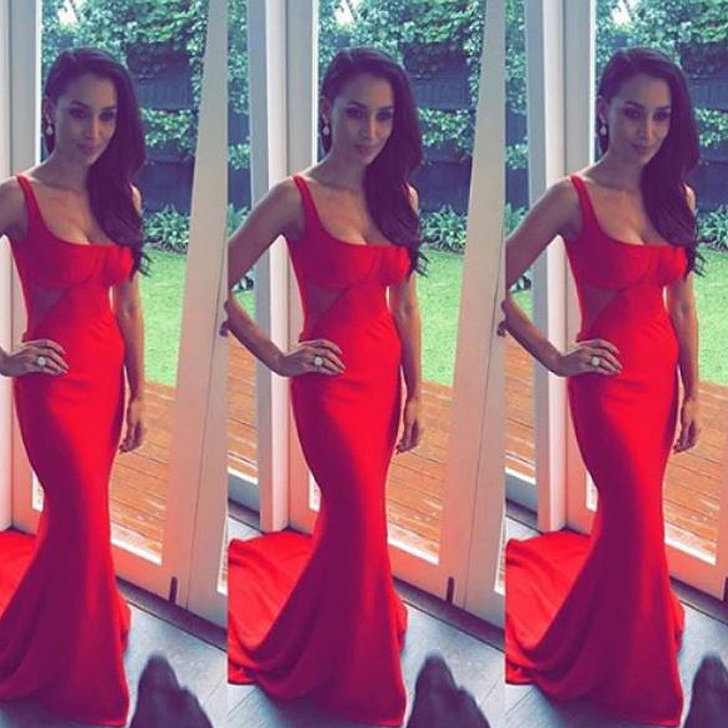 From the moment Snezana Markoski first appeared on our screens last year on The Bachelor, we fell in love with her effortlessly sexy sense of style. She could be wearing jeans and a tee or a LBD and look equally as polished in both. Nothing quite gets our attention though, like her red carpet ensembles.
In anticipaton of her Logies look, we spoke to Snez last week to find out all the details of her dress — the colour, cut and designer. Read on for what she had to say!
POPSUGAR Australia: Tell us about your dress for Logies! Who designed it?
Snezana Markoski: Pallas Couture have made me this gorgeous sheath gown, it's a beautiful red gown. I haven't worn red before, so I'm really looking forward to wearing that. It looks amazing, I had my fitting yesterday and it looks incredible. I've been doing all the workouts and everything, so I feel comfortable wearing a dress like that.
PS: They made your engagement dress didn't they?
SM: Yeah they did! They made my engagement dress as well. I absolutely love them, they know me, they know what I like, they know what looks good on me. I basically went, you know what? It's in your hands, I trust them 100 percent with whatever dress they make.
PS: Did you give them any guidance on the colour or cut?
SM: No, I just kind of let them go with it. They asked me, and I said yes, I love it.
PS: What silhouette do you usually go for?
SM: I prefer it to flare out a bit at the bottom, I feel more comfortable in something like that. I don't think it's flattering on my figure with a straight up and down. Even though I've lost all the weight I did put on during the Bachelor, I'm not straight up and down. I do have hips and a straight dress would be very unflattering.
PS: What are you most confident in? Whether it's on a red carpet or at home, do you have something that makes you feel good?
SM: A lot of my family and friends try to get me out of black, but I actually love black. I love wearing black, and wearing pants or jeans. If I could wear pants or jeans at every red carpet, I would, but I'm told to wear dresses, so I'm going to go with that. I love wearing dresses, but I'm most comfortable in like a pantsuit or jeans.
PS: You've done a pantsuit on the red carpet, haven't you?
SM: Yeah I have! I wish I could do it all the time. It's so comfortable. I always feel sleek and sexy in a suit.
PS: Would you wear a suit to the Logies if you're allowed?
SM: Yeah, I think I would. Oh, it would have to be a pretty impressive suit.
PS: Who are your go-to designers?
SM: Oh there's so many amazing ones, I don't think I could pick out any in particular. All Australian designers are so incredible, and the work they're coming out with is amazing. But for the moment, I've been working quite a bit with Pallas Couture, so that's been really good. They understand me and my body, so that makes it easy. And I feel comfortable with them, when you work with a new designer, you sometimes feel like, oh can I say this? Will I hurt their feelings? But with Pallas and Joy, Bec and Jess, I feel so comfortable. I can say look, I prefer this and that.
PS: Is the jewellery from anywhere in particular?
SM: Yeah, Rosenthal. They're supplying me with the jewellery and it's over a quarter of a million dollars in designs. It's expensive!
PS: Is Sam getting dressed by Calibre?
Related:red prom dresses
SM: Yes, I believe he is. I think I messed up what he was going to wear, because I said to him I'm wearing red, and he was like oh, I'm wearing this. And I was like, no you're not! You need to take it back because I'm wearing red!
Related:black prom dresses