A Wedding Day Timeline For Thoughtful Brides-To-Be
2015.10.29
Planning a wedding can be one of the most joyous and exciting but also stressful events in a woman's life. We've all seen the proposals where the (already shaking with nerves) bachelor has to ask, "So, is that a yes?!" when the girl of his dreams stands there crying with her hands over her mouth after he's popped the question. Sure, her reaction may be out of sheer surprise and excitement; however, I wouldn't doubt that quite a few are speechless because their mind has suddenly started flooding with venues, wedding gowns, bridesmaids dresses, décor, color palettes and floral arrangements, etc. Sometimes it's hard for the bride-to-be to take a step back from everything and focus on the little details that will make her big day stand out. For this reason, I've created a timeline for what I like to call a "thoughtful" wedding day -- one that's filled with tips and tricks to take the bride from AM to PM, leaving her guests in awe of her impeccable attention to detail.
Get ready in style:
Purchase delicate silk or floral cotton robes for yourself and your maids to wear while you're having your hair and makeup done the morning of your big day. Plum Pretty Sugar is my personal favorite! Trust me, your girls will look adorable and the photos will be worth it.
To keep things fancy yet practical, skip the big bottles of champagne and opt for single-serving cans of your favorite bubbly that can be easily transported, opened and disposed of. Sofia's Blanc de Blancs blend comes in stylish pink 187 ml cans (with their own straws for sipping!) that make for the perfect sparkling wake-up call for your girls.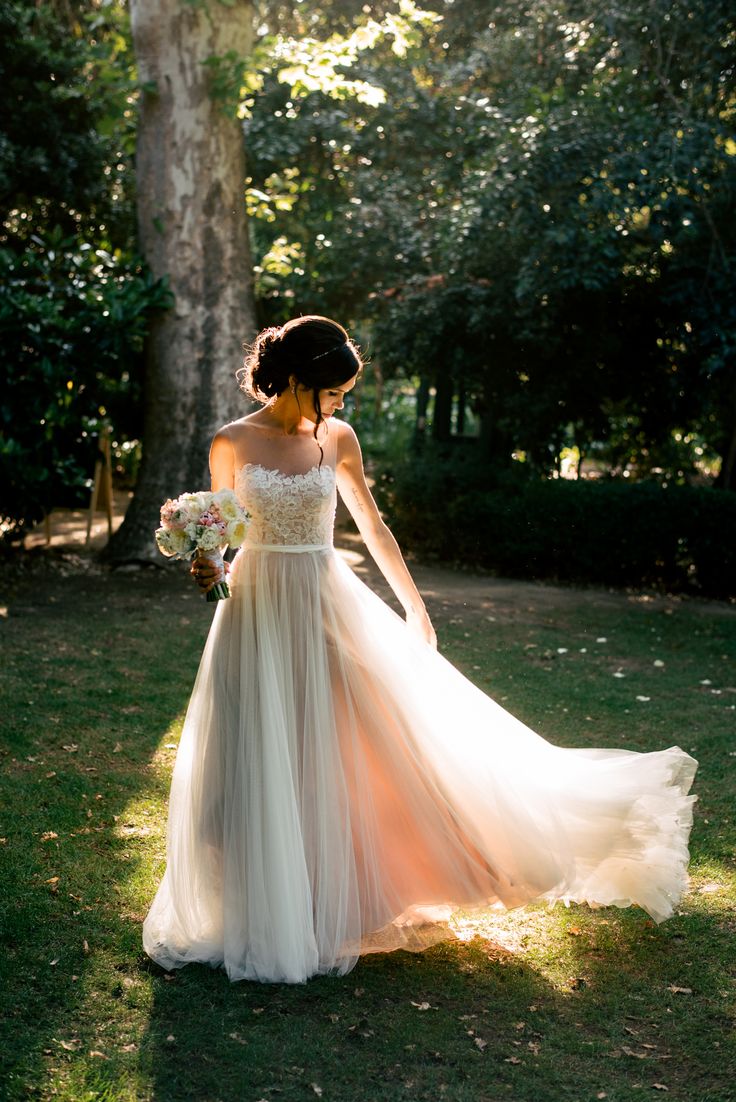 Let your man know you're thinking of him:
Break out your best fifth grade penmanship and write your hubby-to-be a hand-written note telling him how excited you are to become his "Mrs". Etsy has tons of unique handmade options that fit every style and couple out there. Have it personally delivered to him by his best man or choose the cuter, pint-size option and have your ring bearer be the one to put a pre-ceremony smile on his face.
If a mushy gushy love note isn't your style, send along a small sentimental gift that only he will know the meaning of. A memento you've saved from your first date, a photo of the two of you, a ticket from a trip that you took together, anything that will make his heart skip a beat!
Drink lots of H20:
Ladies, this may seem like a given... but in the midst of the chaos that is your big day, you may very well forget to take a sip of what keeps you going! As your nerves kick in, you'll want to stay hydrated so that you can remain calm and, of course, maintain that effortless dewy look.
Ask someone special to place your veil for a breathtaking moment. For many brides, things don't get "really real" until the moment they complete their bridal ensemble with a veil. For this reason, it's important to have someone special do the honors of putting it in place. Whether it be your mother, grandmother, sister, aunt, best friend, cousin or daughter, be sure that your photographer catches the emotion that's bound to arise!
Incorporate an heirloom:
It's what I like to refer to as "eternal ephemera". Something that was created for, shared with or given to you to provide temporary happiness but somehow became an indelible part of your life. It could be a piece of jewelry that's been passed down from generation to generation, a trinket, an old photograph or even a card you received on your 16th birthday. Bring something to your big day that will remind you of the past and make you look forward to the future.
Take your look from day to night:
Purchase a different dress for the reception, possibly something with sparkle or a sexy silhouette. BHLDN's Camilla Dress is both figure flattering and perfect for dancing the night away. I, on the other hand, LOVE the idea of a bridal jumpsuit. The Aurore Jumpsuit is effortlessly feminine and leaves tons of opportunity for personalization with delicate jewelry accents or bold heels. Have you seen Sarah Jessica Parker's incredible line of bridal shoes?!
Prepare for your farewell:
Make sure you pack a wrap or cold-weather topper for the nighttime breeze. Have a little fun with your goodbyes and load your guests up with metallic confetti for a shimmering send-off!
Get ready for the honeymoon romance:
Pre-plan the travel accessories that you'll need for your specific destination. If you're headed to a tropical island, a tiny white bikini and a great sun hat are key. If you'll be hiking Mount Everest (hey, they did it) you'll want to pack your best boots and a little picnic set for when you and your man need a moment to relax. No matter where you're headed, I would always recommend investing in some luxurious lingerie that will have your hubby swooning.
Don't let the fun end there...
Settling into life as a newlywed can be both exciting and challenging at the same time. Pick up a few sweet somethings to surprise your honey with upon your return like a couples cookbook or a book of love stories you can read together at night. I personally love laying in bed laughing (and crying) at Bill Shapiro's "Other People's Love Letters".
If you follow these steps, you're sure to have the wedding of your dreams, complete with a new reputation as the best. bride. ever.
You should also see:
http://www.sippintip.com/blogs/post/4478