A life-changing romance
2016.05.26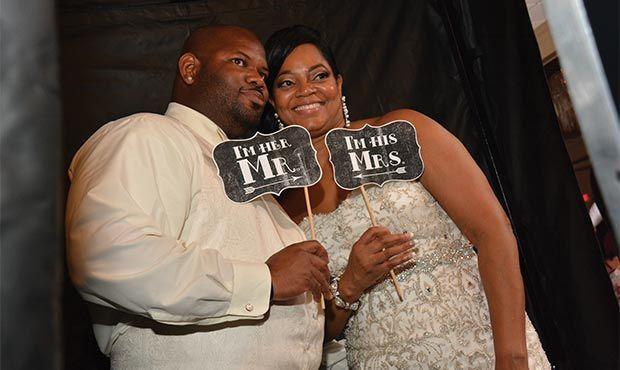 A board game introduced Joy Thomas and David Glenn to arrange a winning strategy for their future together. Around Thanksgiving and again a month later in 2012, they were invited to a monthly game night at the home of Joy's niece who is married to David's cousin.
David's three children from Columbia, Mo., quickly joined the other kids in December to play on their own.
Meanwhile, their dad said, "I was playing video games, sitting on the floor like a kid myself. I kept crashing in this race car game because I was watching her reflection in the screen." He switched to Connect 4 with his niece, who gave up her seat to Joy. He lost twice, then posed an incentive: If he wins, she shares her phone number. His luck changed. Following her to her car – for safety, of course, as he was a St. Louis policeman – he sought the payoff. "Something worthwhile was standing in front of me," he said.
They went to dinner two weeks later. Persistently creative, they connected over common interests, working out free time between his night shift and her daytime IT security job with a pharmaceutical company. He lived in south St. Louis and her home was in Jennings with her adult children.
"After the first date, I could see this potentially going somewhere," said Joy, a widow since 2004. A marathon conversation began one evening. "This was not just rambling. It was the sort that solidified our entanglement," said David. "It was about likes and dislikes and faith, how you feel about life and kids. It was the most productive 12 hours I ever spent on the phone."
Once he met Joy, David was "intrigued." He listened to her trials, but needed to analyze whether he felt love or infatuation. On Valentine's Day, he said he loved her and Joy reciprocated.
Occupying them were their families, jobs and his activities in a motorcycle club, Regulators MC of St. Louis, and BackStoppers which supports fallen first responders. Sometimes meeting at his home between their jobs allowed more time together. David decided it was time to see if the relationship would blossom. While discussing "getting married and married to each other," he gave her a Michael Kors purse for her birthday. It held two tickets for a trip in August to Punta Cana, Mexico. When they returned home, he started looking for the right ring.
On Nov. 13, 2013, life changed. He was shot.
He was just back from a motorcycle trip to Washington, D.C. "I got ambushed while off duty, exchanged fire and was hit in my leg," he said. A knee-to-ankle rod stabilized it. Two weeks later the hospital released him. Joy worked remotely from his home, organizing his recovery physically with a cast from thigh to ankle, plus psychologically from trauma caused by the shooting.
"She literally took care of me like I belonged to her," said David, deeply appreciative. "I am confident that this was preordained."
Joy called her reaction "second nature." After her first husband had died of a brain tumor in eight months, she knew how to put her life on hold. "My question was whether I would lose him before we were even engaged. It solidified what I already knew."
David continued his plan to propose on the anniversary of their meeting. His cousin's invitation for game night on Dec. 28, 2013, did not alert Joy to the added attraction. Indeed, all eyes were on David at his first public appearance six weeks after being immobilized. He said, "I made it my business to get down on my knee" – for five seconds, Joy added. At that point, the significance of what he was saying ultimately drew her attention.
Joy, a part-time wedding consultant, wanted to share a bridal celebration David had never experienced, so they put it on their calendars for August 2015. By the time of their annual Punta Cana trip in 2014, he was strong enough to snorkel.
Their home-church pastors married them at the Jewel Box, with five bridesmaids, five groomsmen, his two sons performing "ring security," one junior bridesmaid and Joy's 14-month-old granddaughter, Penelope, as flower girl. The bride woke that morning "on cruise control. I was like on a cloud, very relaxed, not stressed out. It is easy to get lost in the anxiety of the day, but it is necessary to breathe and stop to look around and embrace what is going on."
Related:KissyProm vintage prom dresses
The vows they wrote flowed from overflowing hearts. David pushed away a new "leaning stick," secured that week while his leg was "going through the blues," to kneel on one knee as "my sign of humility that I wanted to be vulnerable for you. This is us. It verbalizes us every day."
Setting romantic vintage style amid shades of cassis, platinum and cream, Joy personalized her new gown with a sparkling belt, carried her mother's blue-trimmed handkerchief, accented a blue and cream-colored garter with a police officer badge and borrowed her daughter's prom shoes.
At the reception at The Cedars Banquet Hall, she surprised David with a groom's table centered with a red velvet cake, his name on the icing replicating his badge. Surrounding it were photos of motorcycle events, an old-fashioned police call box, vintage patrol car and domed stack of doughnuts, a favorite snack of policemen. A candle and photo of David's grandfather who had raised him honored his recent passing.
David sang his surprise for Joy. He secretly practiced "All of Me" by John Legend and "Point of It All" by Anthony Hamilton. The couple enjoyed a view of 175 guests from an elevated sweetheart table to allow the wedding party to join their own "significants."
The groom anticipated a lifetime of thoughtful communication built on their relationship with God. "Our level of talking makes things move so quickly. My love is forever," he emphasized.
Read more:KissyProm pink prom dresses